Ontario's Leading Commercial Door Supplier since 1986
Industrial & Commercial
Door Solutions
For over 34 Years, Ontario Commercial Doors Ltd. has consistently been ranked as one of Ontario's Top Commercial Door Suppliers & Installers due to our high level of customer service, quality, product warranty and our very own in-house factory-trained commercial door installation team operating across the Ontario area.
Toronto | GTA | BArrie | Hamilton | Richmond Hill | London | Ottawa | Vaughan | Mississauga | Orillia | Collingwood |  Pickering | Niagara Falls | St.Catherines | Guelph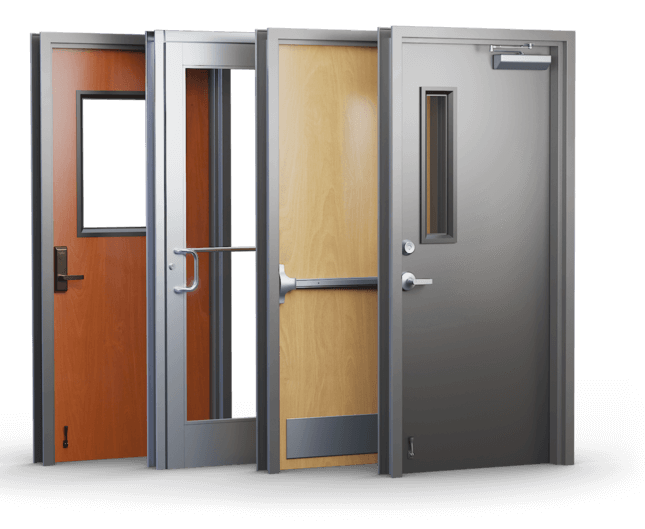 Ontario Commercial Doors Ltd.
We are here to solve your Commercial Door and Door Hardware needs across Ontario!
Ontario Commercial Doors Ltd. is a leading supplier, manufacturer and installer of Commercial Doors and Hardware such as Commercial Metal Doors, Commercial Wood Doors, Emergency Exit Doors, Commercial Door Hardware, Hollow Metal Doors, Fire-Rated Metal Doors, Fire-Rated Wood Doors and more. We also supply a wide range of Commercial Door Hardware, Accessory and Access Solutions such as Commercial Push Bars, Panic Bars, Electric Strikes, Commercial Locksets, and more from North America's Leading Door Hardware Manufacturers. 

Since we are a quality and customer-first organization, we are always accepting feedback on our services in order to better serve you – the customer! Feel free to reach out with any compliments or complaints – we love the feedback!
We value the trust and commitment that our employees, customers and clients have placed in us. We approach each commercial door project with honesty, care and respect. 
From planned renovations or new construction to on-demand service, let our experienced factory trained service technicians take care of your commercial door installation needs.
Our Commercial Door Services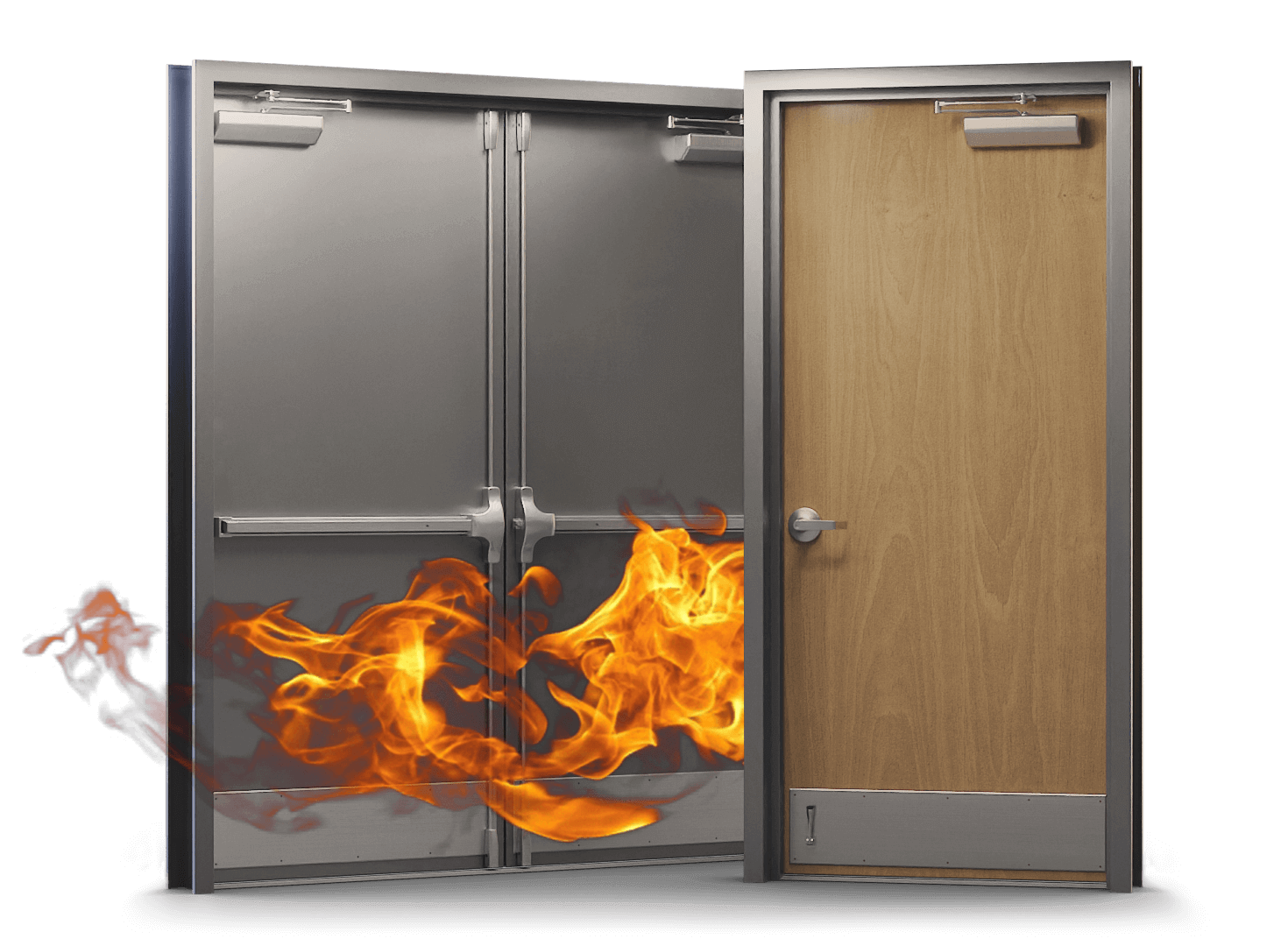 Commercial Door Supply & Installation across Ontario
Commercial Wood & Metal Fire-Rated Exit Doors
Commercial Fire Doors play a crucial role in keeping people safe and reducing building or property damage during a fire emergency. Certified Fire-Rated Commercial Doors effectively control the spread of fire and smoke for between 20 minutes to 3-hours depending on the fire rating you choose. If you are in need of a 3 Hour Fire Rated Commercial Door, we recommend choosing a Metal Door which can save you substantial costs on larger construction projects.
20, 45, 60, 90 Minute or 3 Hour Fire-Rated Doors
Heavy Duty 18-Gauge Steel Doors
Rigid Honeycomb or Polystyrene Core
Commercial Metal Door Supply & Installation across Ontario
Commercial Metal Entry, Interior & Emergency Exit Doors
Commercial Steel and Hollow Metal Doors are fabricated using the highest quality North American sheet steel and can be filled with insulation materials such as polystyrene, kraft honeycomb, or polyurethane. Ontario Commercial Doors Ltd. offers 1-3/4″ thick steel doors and come prime-coated. (Ready to be painted or leave them the way they are).
Our Hollow Metal Doors have shown superior performance due to their quality engineering and materials providing the best rated strength and durability compared to the competition. Our Commercial Metal Doors when regularly maintained outperform the competition due to better quality materials and better engineering, helps prevent more abuse and damage then the rest, providing the lowest overall cost of ownership.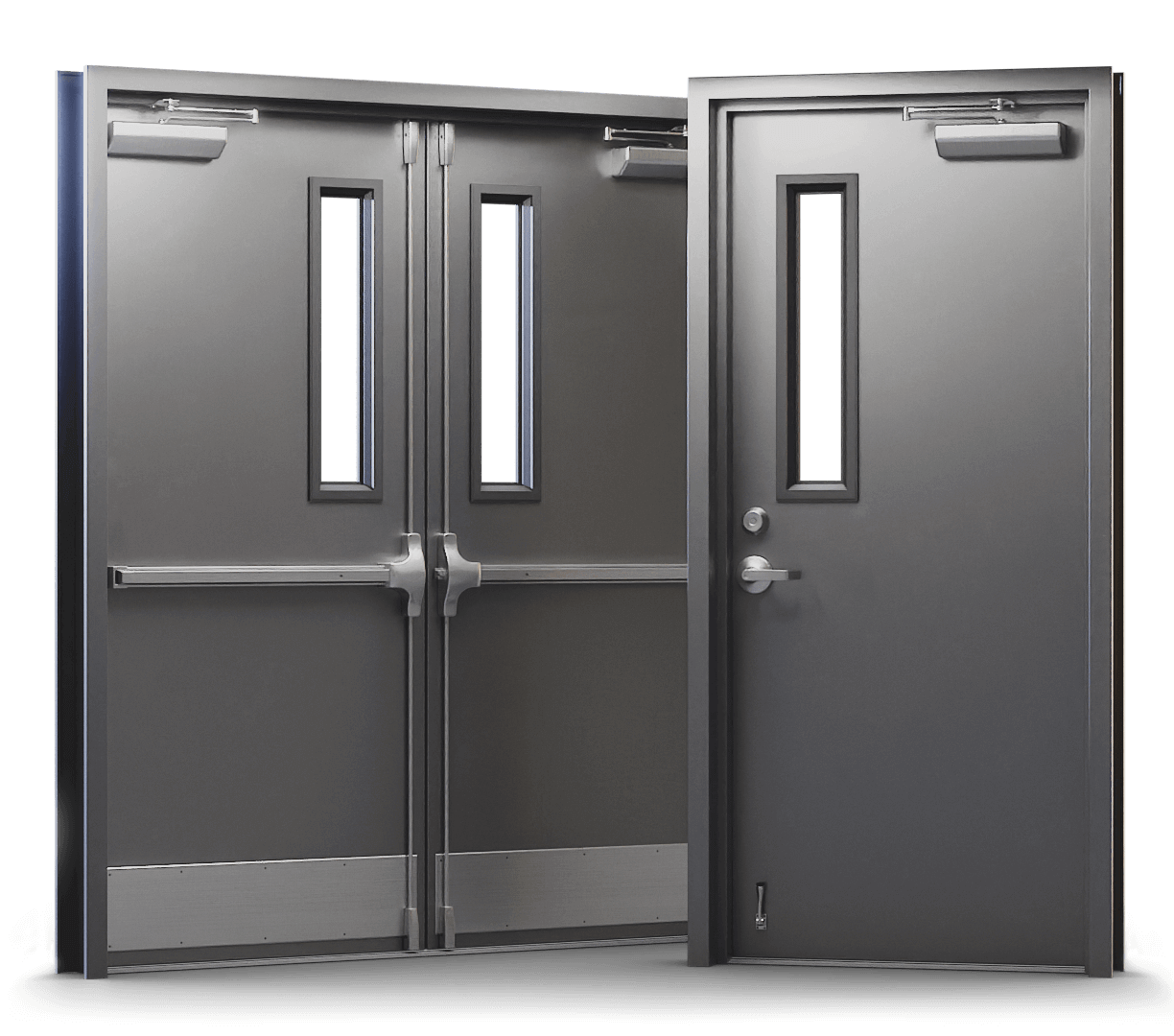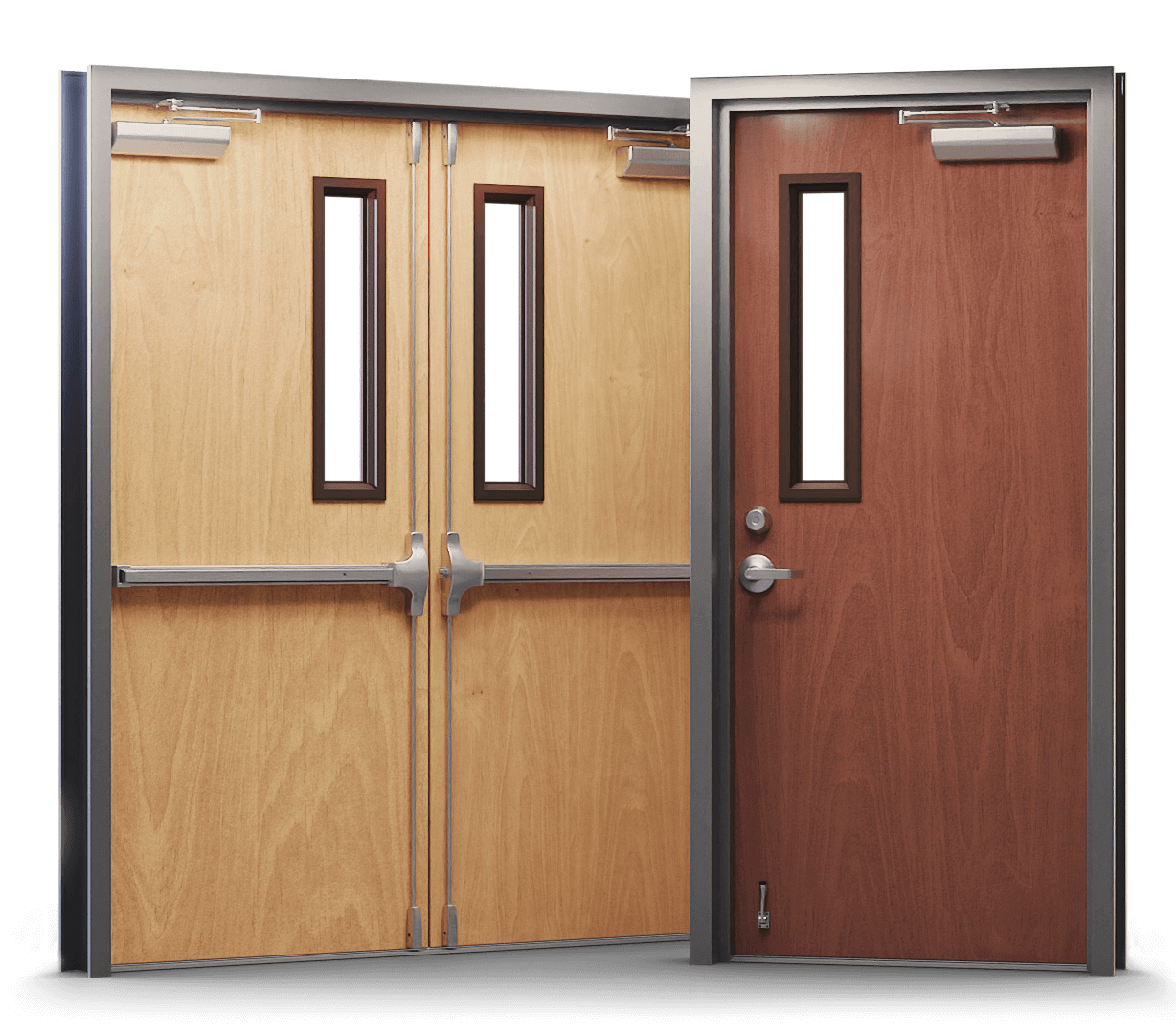 Commercial-grade Wooden Interior & Exterior Doors
Commercial Wood Entrance & Exit Doors
Ontario Commercial Doors Ltd. provides top quality Commercial-grade 1-3/4″ Solid-Core Architectural Wood Doors for a variety of commercial and institutional applications such as offices, hotels, hospitals, clinics, schools, apartments, condo buildings and more! Similar to metal doors, Architectural Wood Doors are durable , highly engineered products capable of withstanding heavy, daily use, while providing an aesthetically pleasing atmosphere.
Commercial Architectural Wood Doors come in all sizes and can be machined to accommodate almost any commercial door hardware application; from secure Door Lock Sets, Electric Access Solutions, Door Closers, Panic Bars, Louvers and Glass inserts from all manners of Door Hardware Manufacturers.
Pre-Finished Architectural Wood Door Suppliers
Commercial Pre-finished Wood Doors
Commercial Pre-Finished Wood Doors are recognized as an incredible value in the Canadian Commercial Door Industry. Our Commercial-Grade Wood Doors are most commonly seen on the interiors of a wide array of commercial facilities such as Arenas, Schools, Stadiums, Recreational Centers, Hospitals and more! Commercial-Grade Pre-Finished Wood Doors provide a low-cost alternative to traditional metal doors, while still maintaining your fire rating specification. 
Ontario Commercial Doors Ltd. offers a range of in-stock pre-finished wood doors with fire-ratings up to 90 minutes to help better control the spread of a fire in an emergency. Our Pre-Finished Commercial Wood Doors have a wide selection of available options such as inner glass kits, louvers and hardware for nearly any commercial application.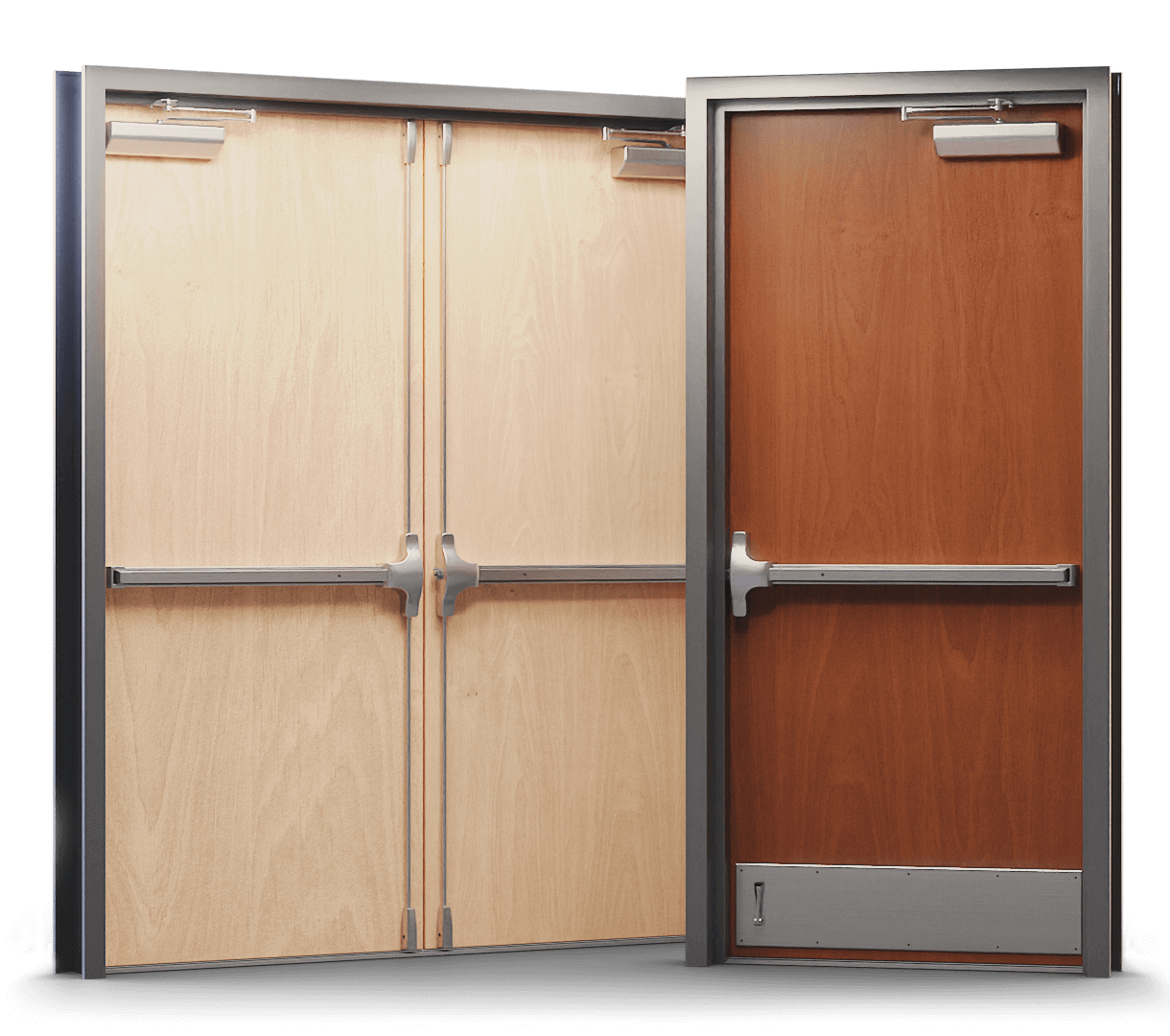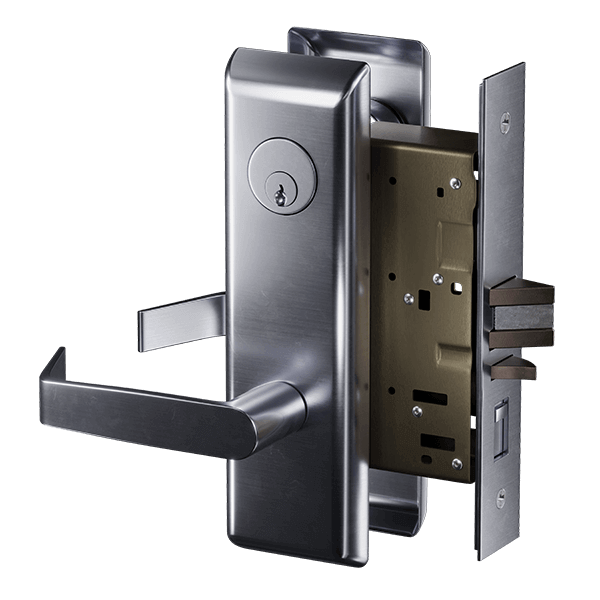 Commercial Door Hardware & Accessories Supplier
Commercial Door Hardware & Accessories
Ontario Commercial Doors Ltd. is the leading Ontario supplier of Commercial Door Hardware & Accessories. We supply many of North America's Highest-rated and most specified Commercial Door Hardware Manufacturers! Give us a call and our experts would be happy to locate the best Door Hardware Product for you!
Why Choose Ontario Commercial Doors Ltd?
vs. Other Toronto / GTA Commercial Door Suppliers
We Operate across Ontario!
We take pride in introducing you to Ontario Commercial Doors Ltd. Emerging as a leading name in the Ontario marketplace, our dedicated and experienced team has over 200 years of combined experience in the Canadian Commercial and Industrial Door industry.
Get a Quote Today! 416-444-0007
Toronto | GTA | BArrie | Hamilton | London | Ottawa | Vaughan | Mississauga | Orillia | Collingwood | sudbury | Pickering | Niagara Falls | St.Catherines | Guelph | Midland